DotNetSkin For .Net WinForm
Latest Released:2008-07-09 , version 2.01.2
DotNetSkin is skin component for .NET WinForm applications , With DotNetSkin developer can create professional skin user interfaces without coding efforts. Just put one component, DotNetSkin will skin all forms and controls in your .NET WinForm application.
For a quick visual overview of user interface that DotNetSkin provides take a look at the screen-shots that were made from actual skin file that we ship with DotNetSkin.

DotNetSkin support SDIform with custom caption.
Support MDIform with MdiList in Mainmenu, menu merge with MDIChild form.
Skin mainmenu and toolbar with Office 2003 style .
Support Button,CheckBox,RadioButton.
Support Combobox.
Support Statusbar.
Support Trackbar.
Support Progress.
Support DomainUpdown,NumberUpdown .
Support TabControl with Scroller.
Support ListView with header control.
Support Scroolbar in ListBox,ListView,RichTextBox,TreeView,DataGrid
There are 66 skin files available, more skin files coming soon.
SDIForm with skin caption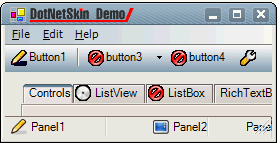 MDIForm with MdiList in MainMenu,MenuMerger with MDIChild


Skin Mainmenu Toolbar with office 2003 style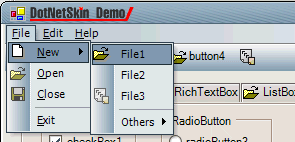 Support Button,CheckBox,Radiobutton,Edit,Combobox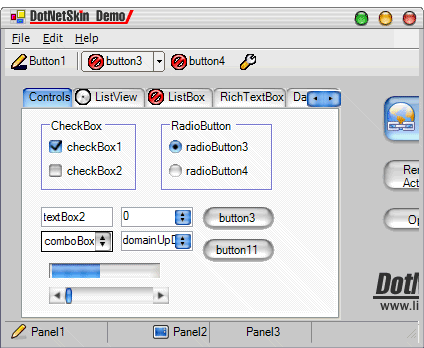 Support Statusbar, Progress,DomainUpDown, NumberUpdown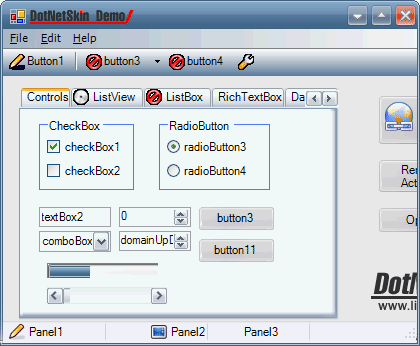 Support TabControl with Scroller,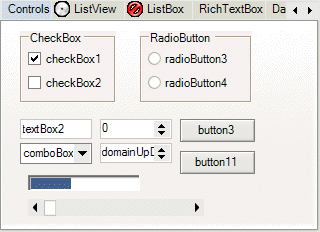 Support ListView with Header control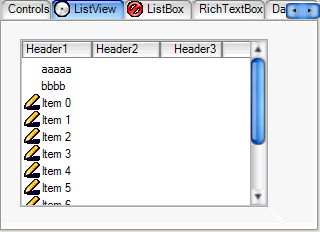 Support ScrollBar in Listbox, RichTextbox,DataGrid